the pre-order is now closed. thanks to everyone for making it a success! :) i should be able to run the color again after all, though likely not until 2015. more good news: bodyartforms & pierced hearts (seattle) both ordered stock! :D as always, watch the facebook for order status.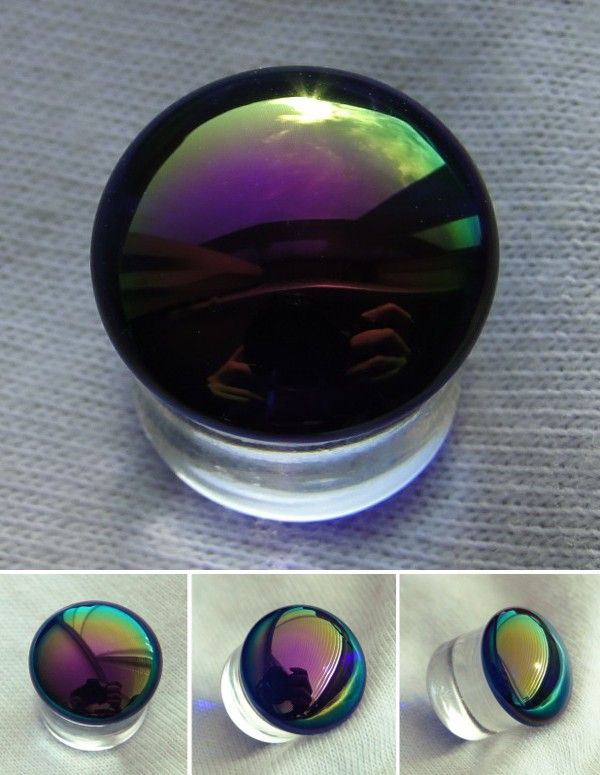 visit the luciferins facebook at http://www.facebook.com/Luciferins
see the customer gallery at http://photobucket.com/luciferins

OPEN COLORS: deep purple only! the next full pre-order run will occur in early 2014.

**NOTE ON THIS ORDER**: if you are using "own glass", you MUST order DOMED cobalt colorfronts. the "on cobalt" portion regards the glass, & this color DOES NOT WORK on clear or white.

they have the same visual properties as IS's long-gone satin dichro plugs. they can be scratched similarly to the satin dichro, but hold up well in my tests. the color is permanently & professionally bonded to the front of the plugs only, not the wearable. they should be cleaned with a soft, dry cloth without solvents. no autoclaving.

each plug is domed on the front, flat on the back (except in small sizes), & has a 5/16" wearable. i am offering singles & conch lengths. sizes over an inch ARE POSSIBLE, but you'll need to have your own glass made. i'll do this for other users too - see below for more info!

prices per pair. singles are half price. clear, cobalt or white colorfronts are the prices noted; for other colorfront colors, see below. see "add-ons" for long wearables for conches, too.

PAIRS - colors as noted - SF or DF, 5/16" wearable:
8ga: $75
6ga: $75
4ga: $75
2ga: $75
0ga (8mm): $80
00ga (9mm): $80
7/16": $90
1/2": $90
9/16": $90
5/8": $100
3/4": $100
7/8": $130
1": $130

LARGER SIZES - you'll need to have your own glass made *on domed cobalt colorfronts* & shipped to me from an approved manufacturer (plugs must be new & untouched). the upside is you get to decide your own specs - wearable length, flare size. please contact me first to arrange this since there is a time consideration to production. i don't mind receiving the glass early & holding it for the next pre-order.
1+1/16" to 1+1/2": $110
1+1/2" to 2": $130
2"+: contact me.

ADD-ONS:
SF conch plugs with a 1/2" wearable: add $5 per plug

IF YOU WANT OTHER COLORS, SPECIFIC MEASUREMENTS, or FF GLASS IN GENERAL:
frozenfire said he's glad to make glass for luciferins on a one-off basis. contact him through his etsy & order what you want (must still adhere to approved luciferin styles - ask me if you're unsure). pay him directly for the glass, & he'll ship them to me for the next color batch. i'll need to know exactly what you order from bill (or GWS, or another approved manufacturer) so i can sort yours out later, so list that information when you place your order.
please see this post for more information on this service. the coloring costs for clear glass or colorfronts are as follows:
8ga to 2ga: $70
1ga: $90
0ga or 00ga: $75
000ga (10mm): $95
7/16" to 9/16": $80
5/8" or 3/4": $90
11/16" (18mm), 20mm, 7/8" or 1": $110
note: even with own glass, your order must still adhere to the colors being offered & approved specs. some colors DO NOT LOOK GOOD on clear, & also don't look good with nailpolish backs. trust me on this. you can order for "own glass" under "extras" below.

shipping is $7 in the US, which includes a new bubble mailer, delivery conf, & insurance up to $200 (more insurance can be purchased below). international shipping is $11 - you receive a new mailer, but shipping is at your own risk since there are no delivery conf or reasonable insurance options. i'm not responsible for packages damaged or lost in the mail.

TO PLACE AN ORDER:

select what you want & hit add to cart! EVERYTHING IS LISTED AS A SINGLE PLUG. you'll need to update your cart quantity if you want a pair.

washington buyers: i have to charge you 9.5% sales tax. you'll see this on your paypal receipt. i do offer local pickup (saves you shipping/insurance costs) for anyone in the seattle area.

note if you want double or single flares. be sure to tell me for all plugs ordered - e.g. "1/2 DF, 4ga SF", "all DF", whatever.

US only: if you order more than $200 worth of luciferins, you may want to add extra insurance. the $7 shipping covers ONLY up to $200. more is listed under "extras".

if you're sending your own glass, comment or email with details FIRST, then use the "own glass" links under "extras" when your order is approved. THESE ARE ALSO LISTED AS SINGLES.

paypal is necessary, credit cards are A-OKAY. you don't need an account to use paypal! please check your invoice carefully to make sure all the specifics are correct. comment or email me ANY TIME with questions.

for anyone who has a SPECIAL SITUATION (trade discounts, whatever), you can place your order as normal, then comment or email me & i'll refund your discount. alternatively, & for larger amounts (including raffle winners), comment with your order & i'll invoice you manually.

need longer to pay? i never charge any fees on Luciferin payment plans. :) email me, & we'll work out the details.

if you would like to add to your order later, use this same format & drop a comment to let me know, and i'll be glad to refund any extra shipping. :)

LUCIFERINS
sorry, the pre-order is now closed.

DISCLAIMERS - PLEASE READ: these are all professionally handmade plugs, & as such can have minor imperfections - a tiny bubble here or there, et cetera. no plugs will purposely be sent that qualify as "seconds" or "blemished" without prior agreement of same. multiple pair orders will match to the best of my ability. with other-made glass, i will refund your color cost 100% if there is any damage to your plugs in creation, but cannot return your glass cost. it's unlikely they'll be chipped or otherwise damaged. if the coloring doesn't come out perfectly for whatever reason, i will offer a discount based on the degree of imperfection; this offer is non-negotiable but will be more than fair.

ETA is 2-3 months, variable depending on how large this pre-order gets. as always, watch here or the facebook page for information/updates, & ask questions at any time.

ORDERING CLOSES august 3 at 8pm PT.